Hurry! Don't miss this amazing sale! Get an entire 2-piece active sportswear outfit, including a top and bottom piece from celebrity Kate Hudson's new company Fabletics for ONLY $10! That's only $5 per piece!
Fabletics sells stylish workout apparel for both women and men. These outfit are regular price $49.95. Take the short style quiz and get $39.95 off at checkout, making it only $10 –an 80% savings!
You can choose a Personalized outfit based on your answers or choose another option if it doesn't quite fit your style! Fabletics is flexible and time-saving!
How to get this deal:
Take the quick lifestyle quiz to find your style
Select a top and bottom piece for $49.95 total
-Instantly receive 80% off
Pay $10
With Fabletics you'll receive Personalized Outfits each month. You'll find new outfits hand-selected just for you and your workouts. There's never any obligation to buy. Buy the outfits you love or skip the month altogether. Your first order will enroll you into the VIP membership. If you no longer wish to receive future shipments each month, be sure to login or call the 800 number to "skip" or modify your account status.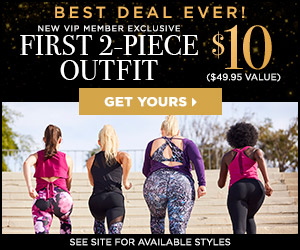 ---
Top Trending Baby Coupons
Free Amazon Gift Cards!
Click here for 3 Legit ways to Earn Free Amazon Gift Cards!
---
Take $5 off your $10 Amazon Prime Purchase!
If you're new to the Amazon Mobile App, Click here to download the app and use the invite code BB168N to get $5 off your $10 purchase, valid on any item sold & shipped by Amazon. The $5 off is valid for new mobile users who have not previously downloaded the mobile app before.

Save 5% on Everything at Target!
Before you head to Target, click here to signup for a Free Target REDcard Debit Card. You'll save 5% off the final purchase price as shown in all of our deal scenarios ! This may not seem like a huge savings, however every penny counts and in the end, it does make a huge difference!